This post isn't going to be funny. Not even slightly. But I'd still like you to read it.
Today Aunty Penny and I attended the 20th Annual Silent Domestic Violence Memorial March at the Stirling Gardens in Perth city. It was dedicated to all those who have lost their lives as a result of domestic homicide in Western Australia in the previous year... 15 people. 15 too many.
On the ground in front of the stage there were 15 white coffins displayed.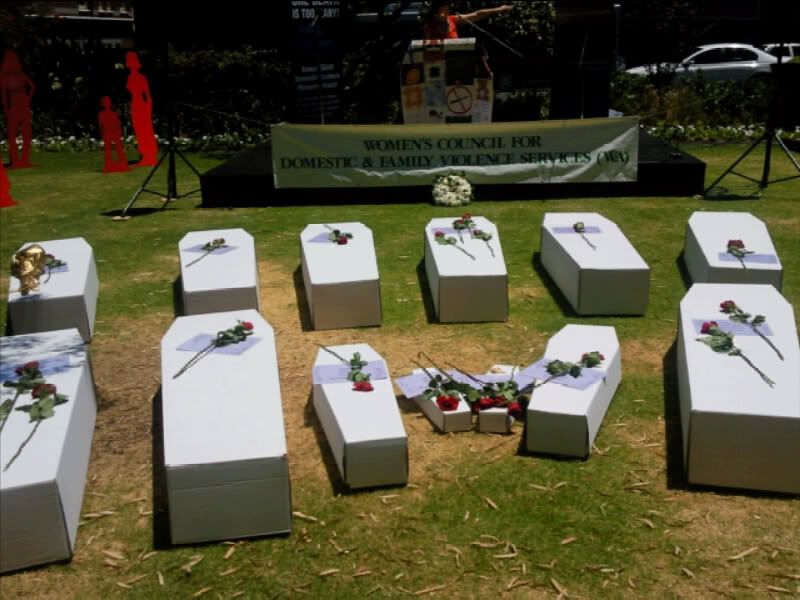 13 of the 15 coffins
There were two smaller coffins for children.
And right in the middle there were two tiny coffins.
Some of you may remember, because of the giant media circus at the time, that those coffins represent seven month old babies. Twins. Lachlan and Sophie.
I sat on the grass, in front of the tiny coffins, playing with Tricky's feet while he smiled and babbled away, unaware of the somber mood of the crowd. I had a massive lump in my throat. I was consumed with thoughts of Tricky - almost the same age as the twins... but I could not even imagine what it would be like if he were gone. My mind simply cannot process it. So seeing those tiny coffins, knowing that someone had murdered those innocent babies... I could not contain my sadness.
My chest was on fire and my stomach ached... and I wept.
I felt embarrassed - I was, after all, crying over people I had never met before. But when I looked around, there were a lot of other people crying too.
The few hundred people gathered then walked the streets of Perth in silence. Men, women, children. Gay, straight. Christian, atheist, Muslim. Black, white and every shade in between. All were represented because all are touched by this horrific crime.
Police blocked traffic and we walked the streets in silence
Today's march was silent. But if you, or someone you know is experiencing domestic violence then don't be silent any more. For a list of resources in your state, visit
ReachOut Australia
.